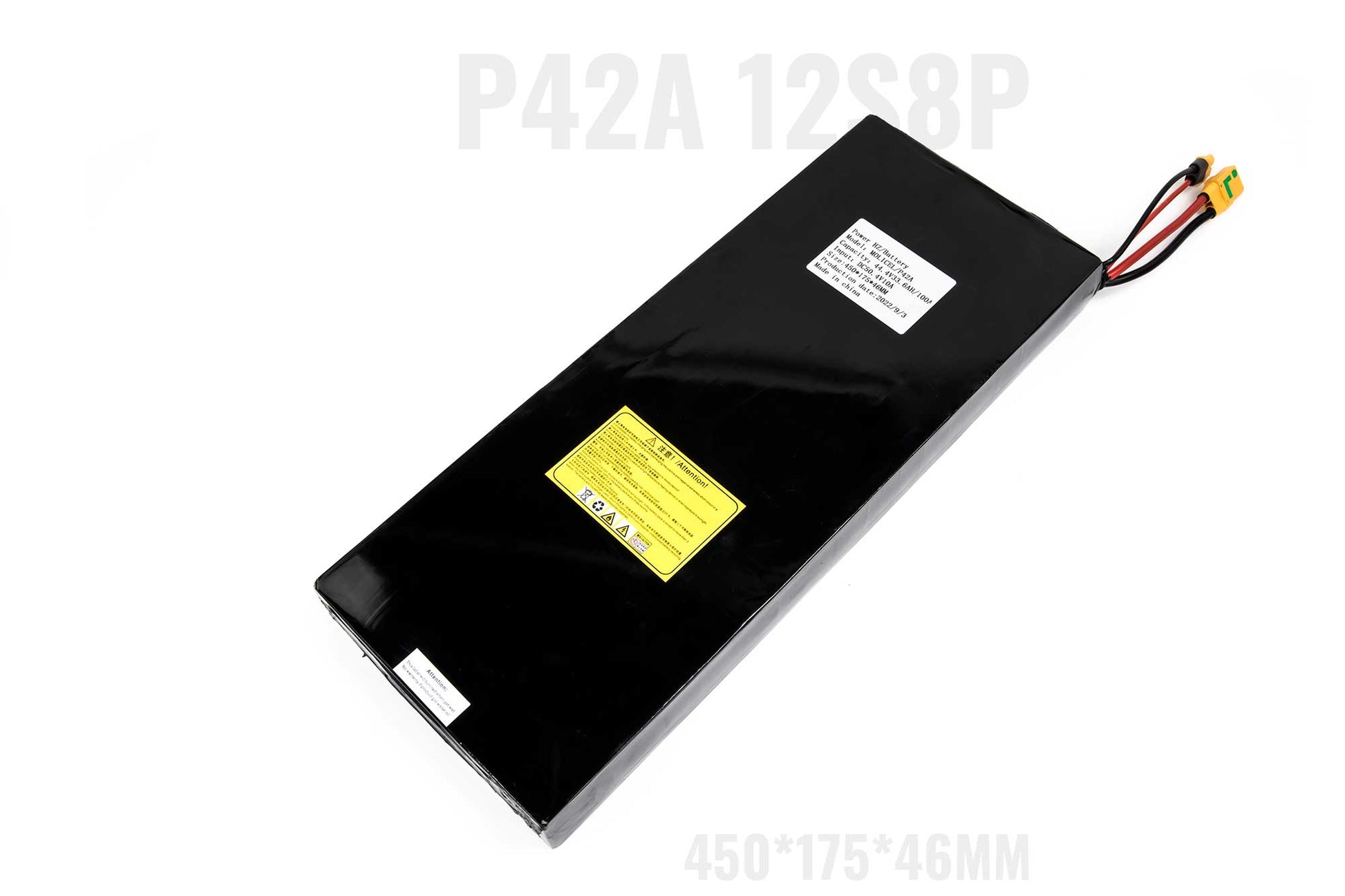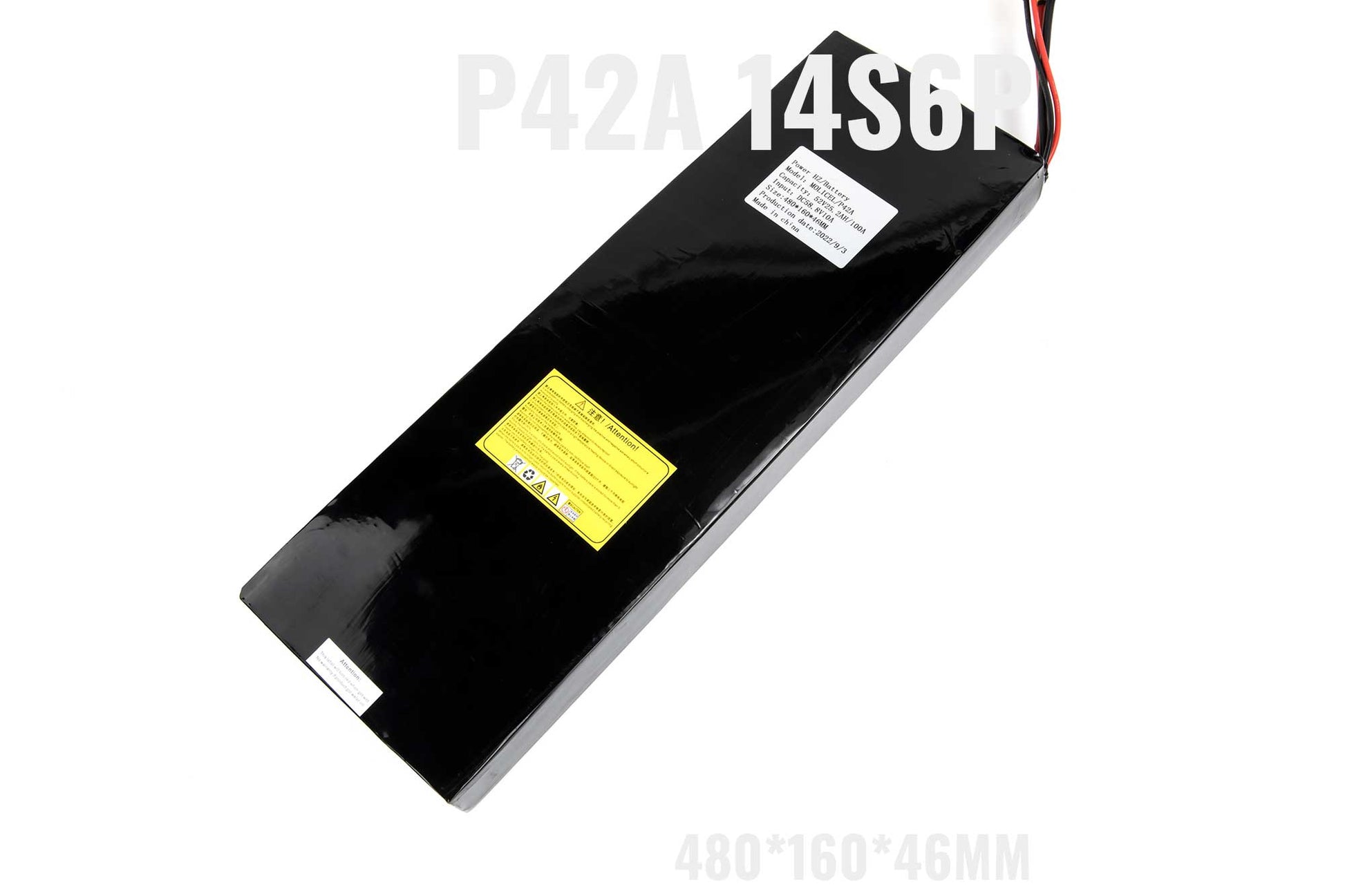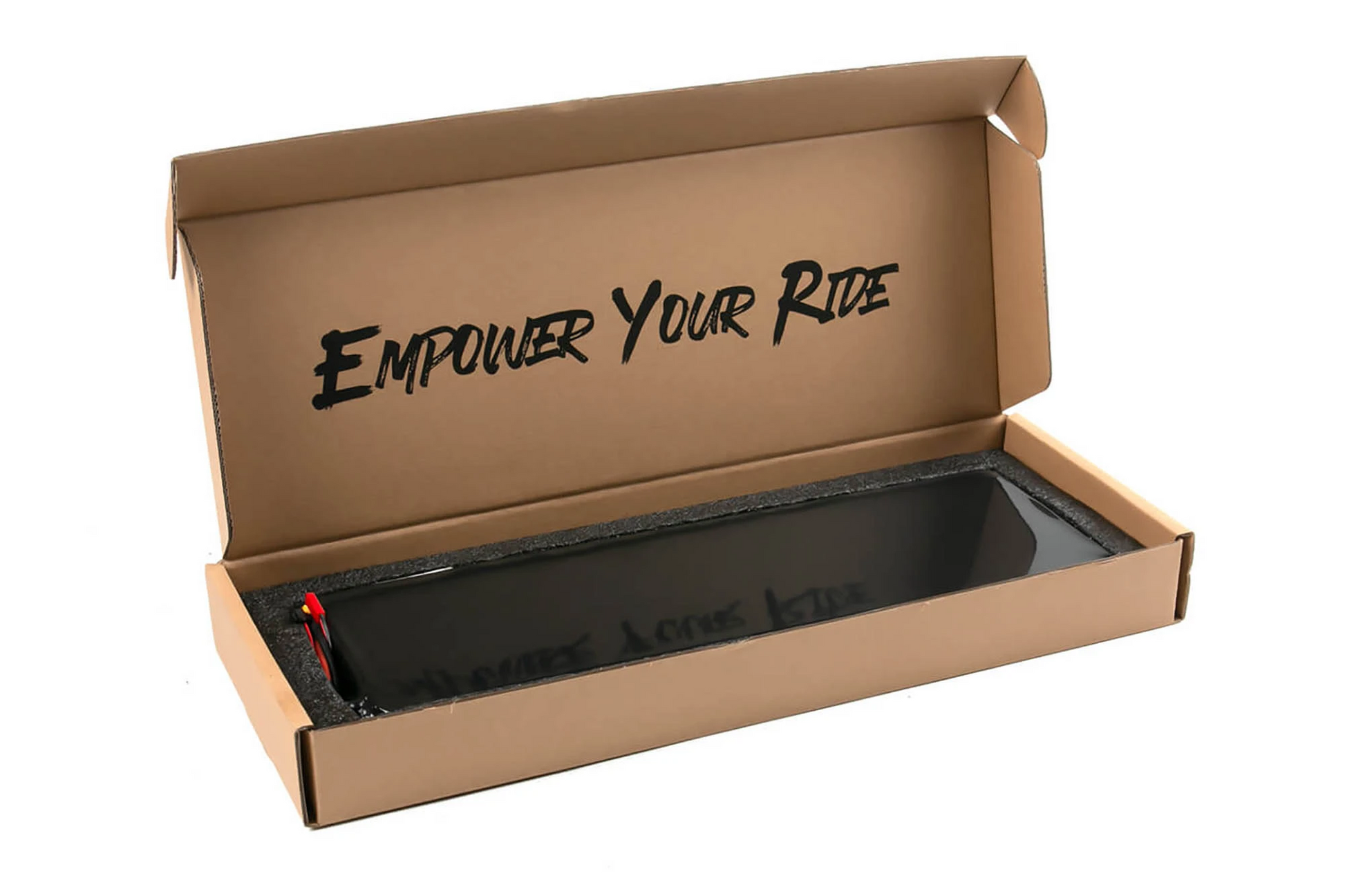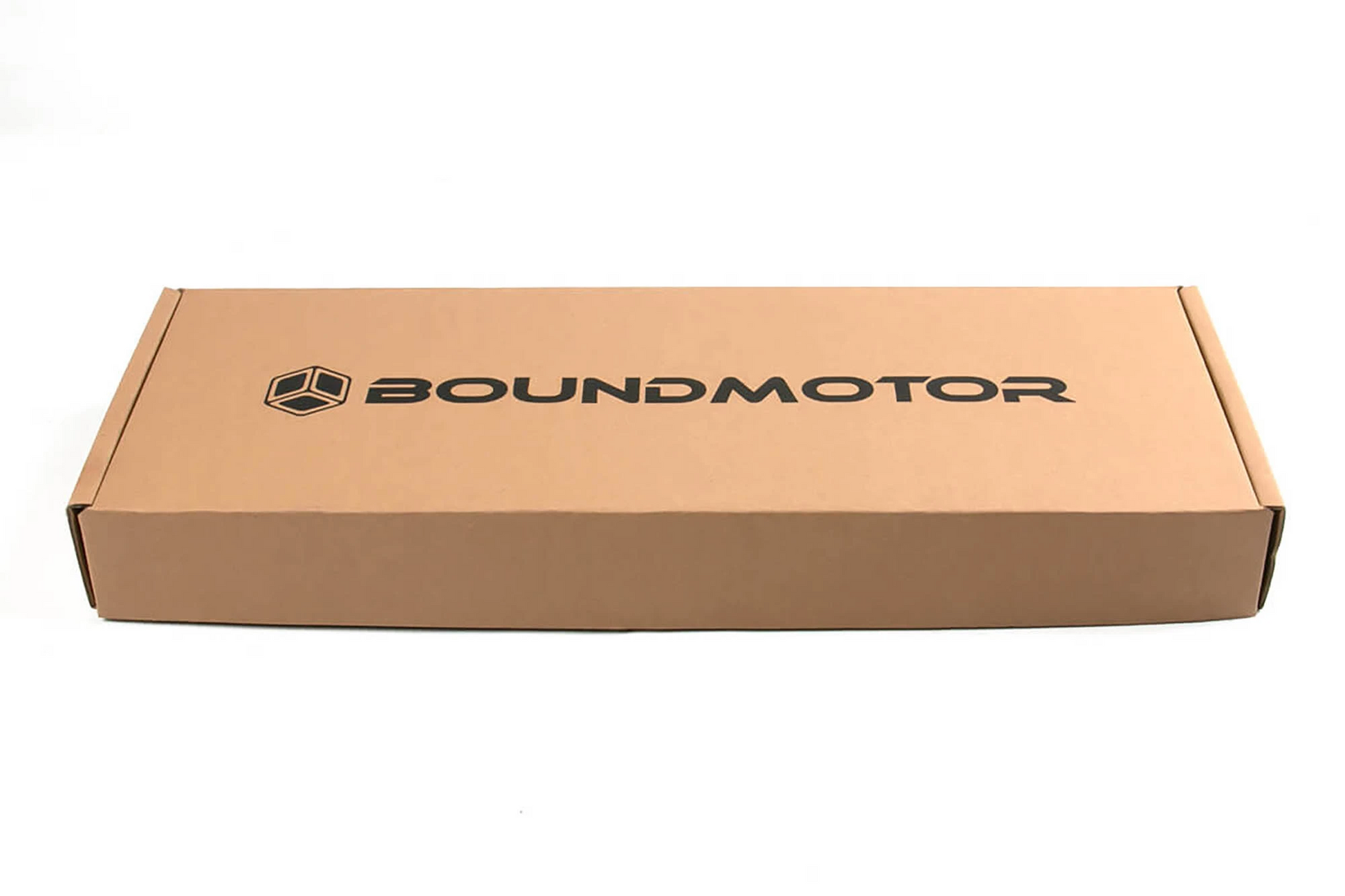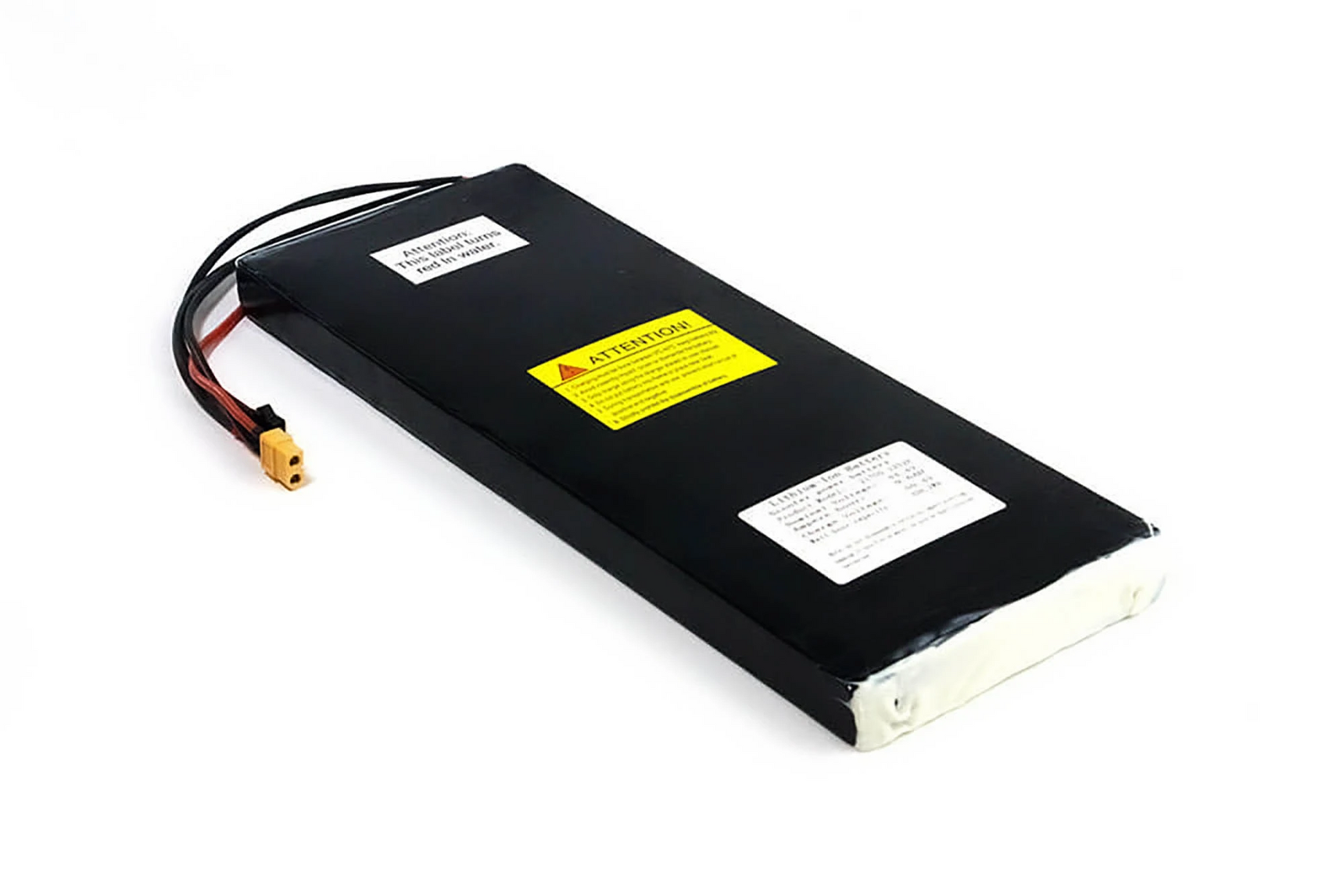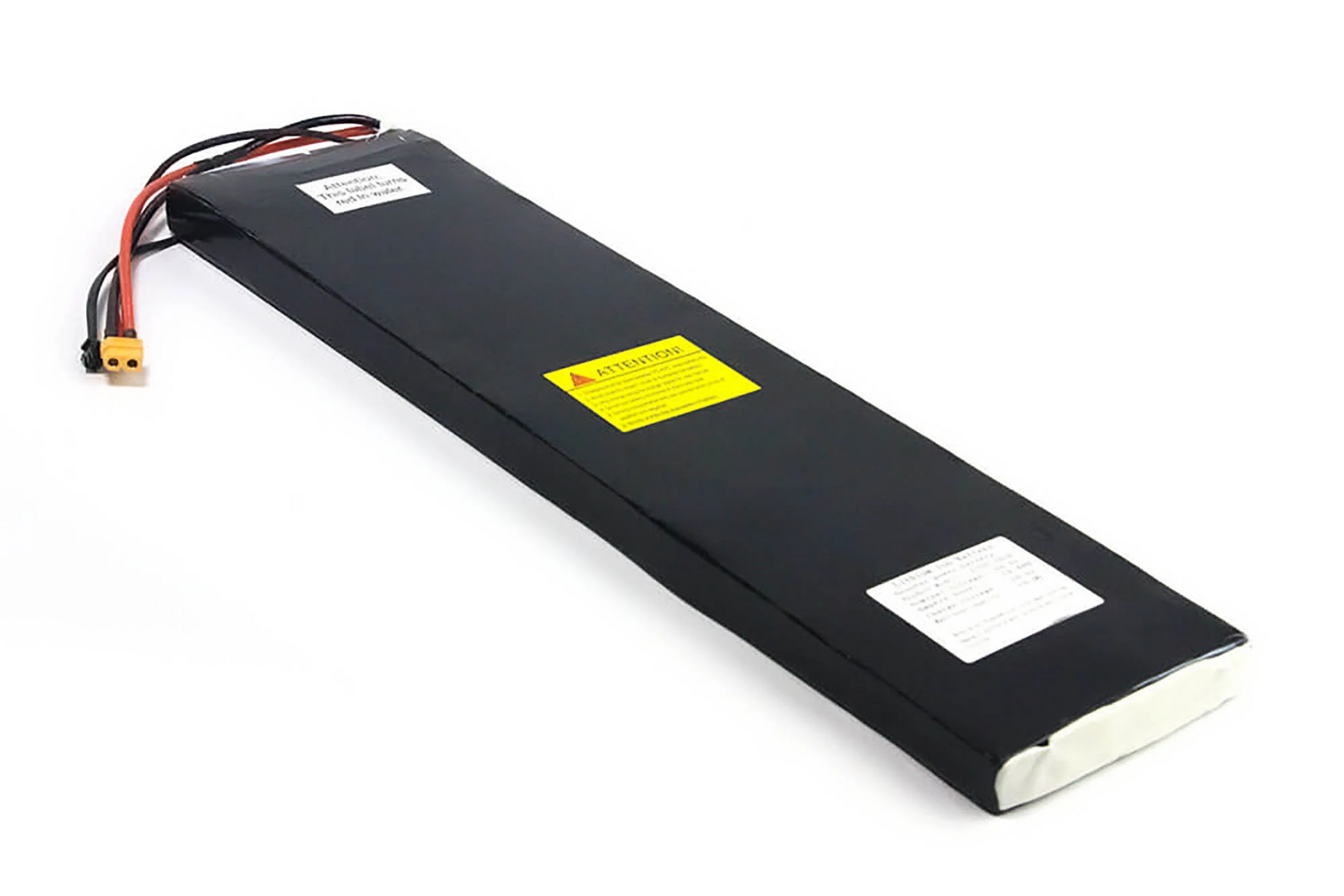 12S Electric Skateboard Battery Pack
Sale price
$699.00
Regular price
Estimated Delivery:Dec 11 - Dec 15

Free Shipping On all orders over $300
All in one skateboard integrated battery pack, simple & one plug charging. We offer a 12S3P & 12S4P Electric Skateboard Battery Pack using Panasonic 21700/ Molicel P42A 21700 Lithium-Ion Cells made specifically for building a High-Performance Electric Skateboard.
Introducing the BOUNDMOTOR 12s2p/12S3P Complete Battery Solution. This battery is a ithium-ion battery made from 24/36 premium Panasonic 21700 cells with a built-in BMS (Battery Management System) that protects the battery pack and keeps it running safely when operating and charging. If you're looking to build a super fast board 12s batteries are the way to go. Everything is plug and play, no soldering required. A 12s charger is NOT included with your purchase of the battery.
Hed

12s battery info table 12s3p - 12s8p.

| Cell Brand | Cells in Series & Parallel | Capacity | Output Connector | Input Connector | Watt-hour | Nominal Capacity | Nominal Voltage: | Maximum Voltage: | Charging voltage | size(cm) | Weight(kg) |
| --- | --- | --- | --- | --- | --- | --- | --- | --- | --- | --- | --- |
| Samsung 30Q 18650 | 12S3P | 9.0 Ah | XT60 Female connector | JST | 388.8wh | 3000mah/cell | 3.6v | 4.2V | 50.4v | 41.5 x 13.3 x 2.2cm | 2.02kg |
| Panasonic 21700 | 12S3P | 14.4 Ah | XT60 Female connector | JST | 639.4wh | 4800mah/cell | 3.7v | 4.2V | 50.4v | 3P:51.5 x 13.2 x 2.3cm | 3P: 2.9kg(6.39lb) |
| Panasonic 21700 | 12S4P(out of stock) | 19.2 Ah | XT60 Female connector | JST | 852.5wh | 4800mah/cell | 3.7v | 4.2V | 50.4v | 4P:51.5 x 17 x 2.3cm | 4P: 3.8kg(8.38lb) |
| Molicel P42A | 12S4P | 16.8 Ah | XT90 Female connector | XT30 | 725.8wh | 4200mah/cell | 3.6v | 4.2V | 50.4v | 4P:50x17x2.3cm | 3.8kg |
| Molicel P42A | 12S8P | 33.6 Ah | XT90 Female connector | XT60 | 1451.5wh | 4200mah/cell | 3.6v | 4.2V | 50.4v | 450*175*46MM | 7.5kg |
Battery pack * 1
Charging Port * 1
Fast Charger(5A) * 1 – optional
12S 5A Charger allows you to charge your battery pack faster.
Samsung 30Q 12S3P: 2.16 hours
Molicel P21A 12S4P: 3 hours
Mind blowing range
My new board has Panasonic 21700 12S4P x2 to make it 12S8P (1705Wh total) and I've ridden over 30 miles on it and it still had decent range left according to Davega X that I had it on the board. I finally have the board with giant battery packs and I can finally ride without having the feeling of range anxiety anymore. Boundmotor has done amazing job setting the board for me and I can now never go back to the boards I've been riding for many years that couldn't last more than 12 to 15 miles which isn't much for the group rides. They currently don't have those battery packs anymore but I'm pretty sure Molicel P42A x2 at 1451.6Wh would be as amazing as the battery packs I have on mine. Highly recommended to go two battery packs for your build if you are looking for long range! If you want to go any further and don't mind riding for hours and hours, I'd suggest to go for Slime Wheels which is amazing set of wheels.
Thank you so much for your detailed review.
Amazing!
Bought the battery with the landcruiser deck and i couldnt be any happier with it. The battery really lasts a long time. Im 165lbs and ride at an average speed of 15-20mph and ive been getting about 30+ miles from the battery. Youre gonna get ridiculous mileage out of it. Build quality of the battery and deck are top notch, shipping was fast and the price was very reasonable. You wont regret buying this battery i can gurantee that.
You won't regret this
Recently bought this battery and a board to go with it as an upgrade of my existing board. After an hour of test riding, the battery had not even dropped below 75%. This battery will last longer than your calves.
I love it
WORKS GREAT and fast delivery
Great purchase!
Shipping was unexpectedly quick and the battery was packaged well!
Just waiting on some other parts before a test run.