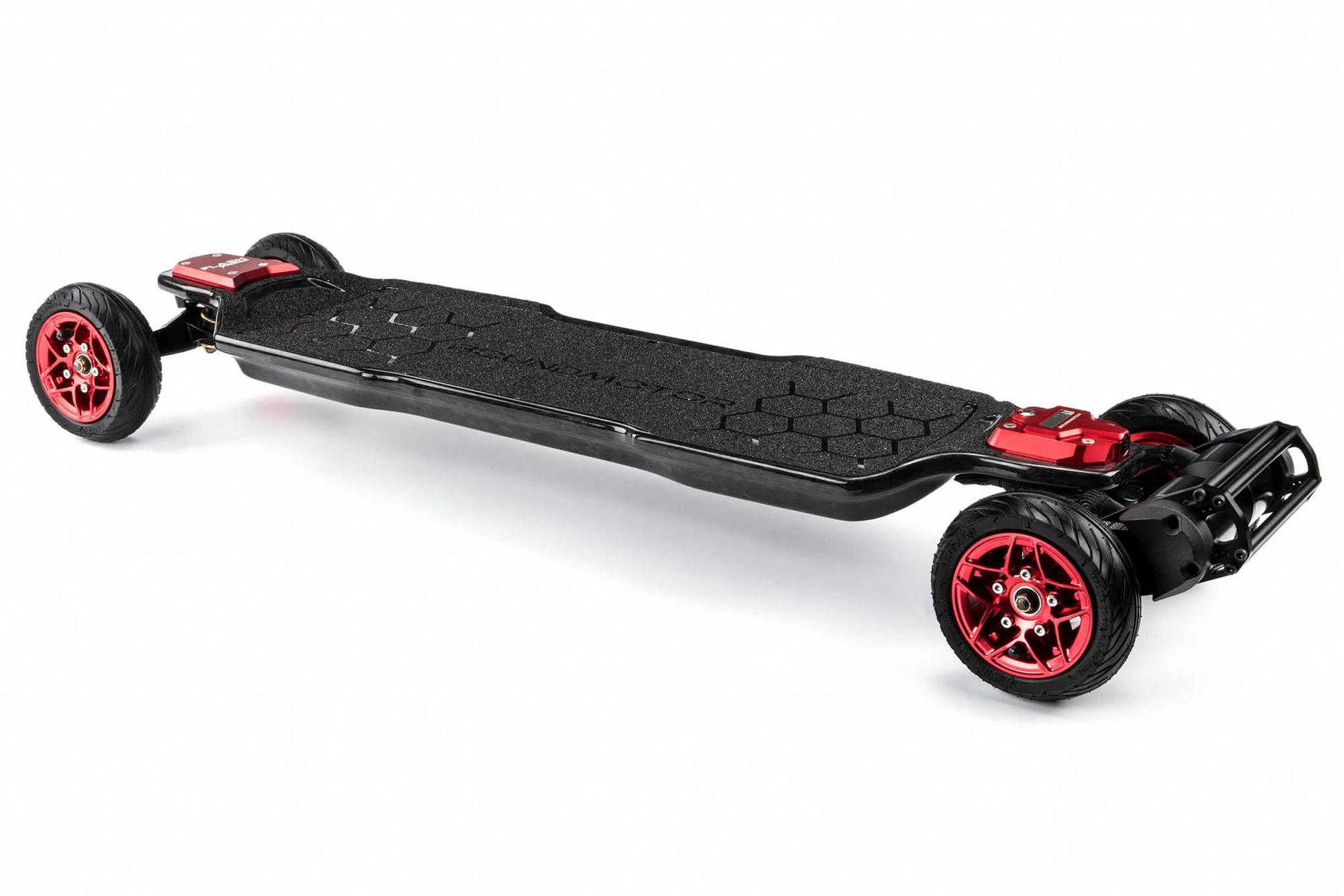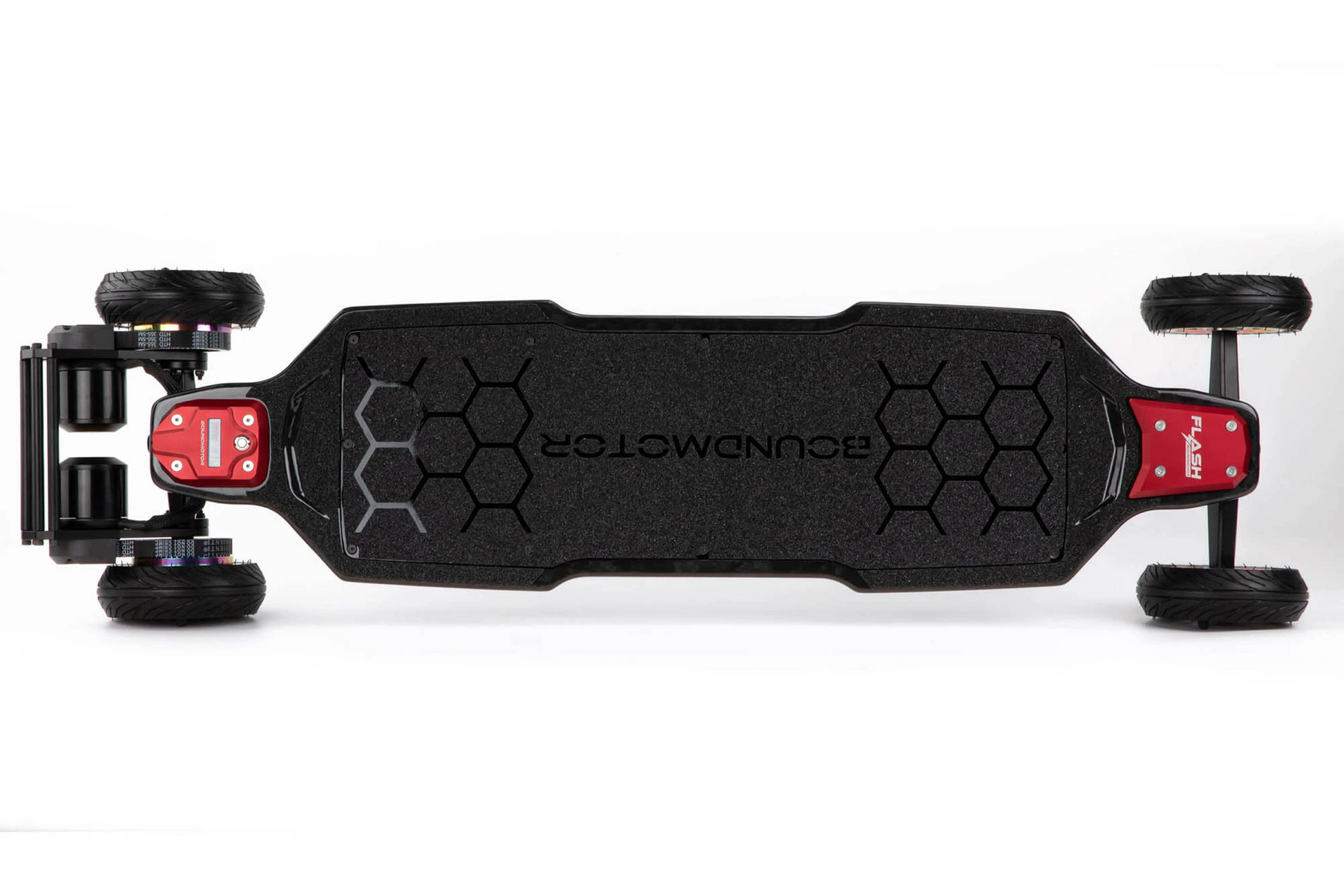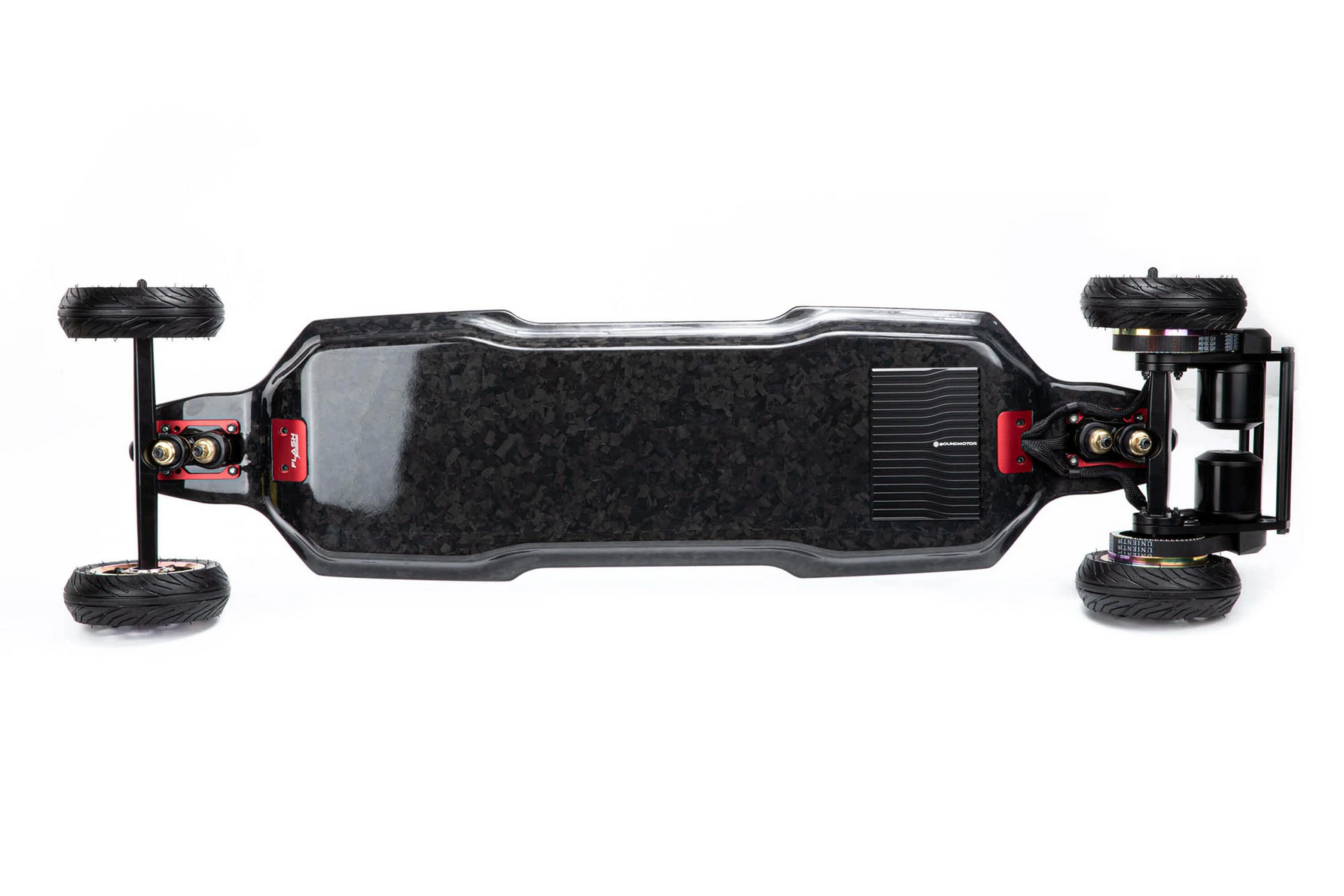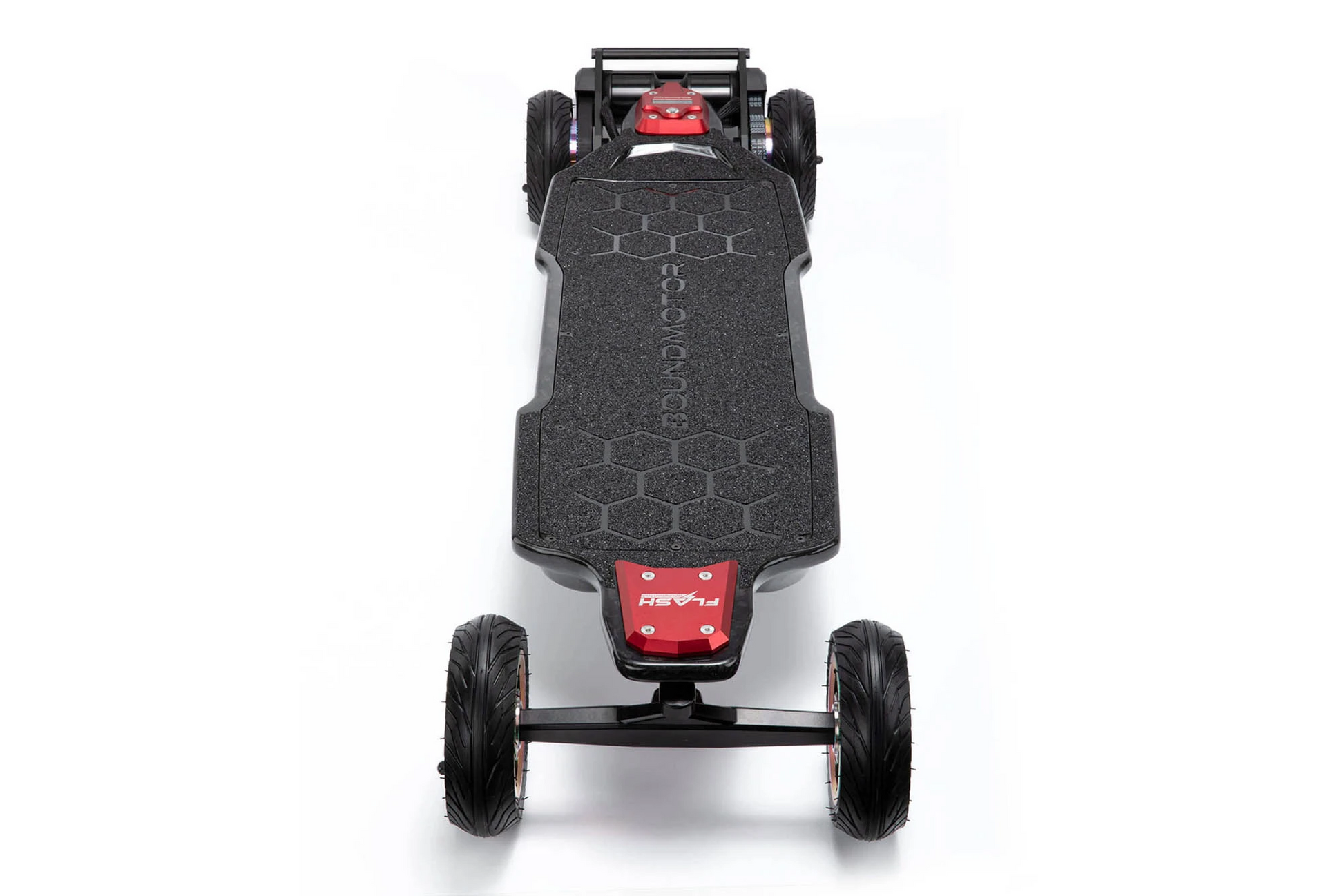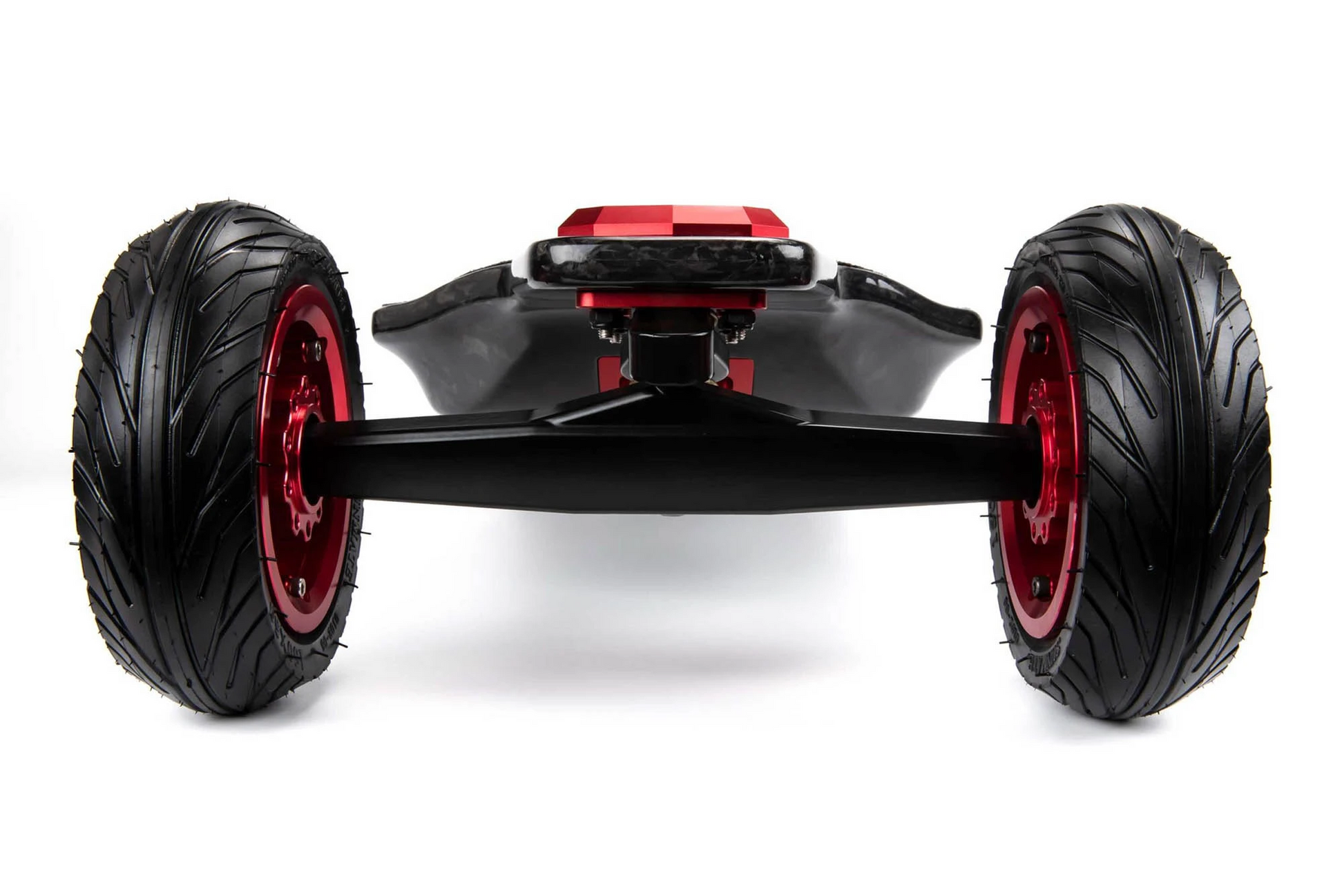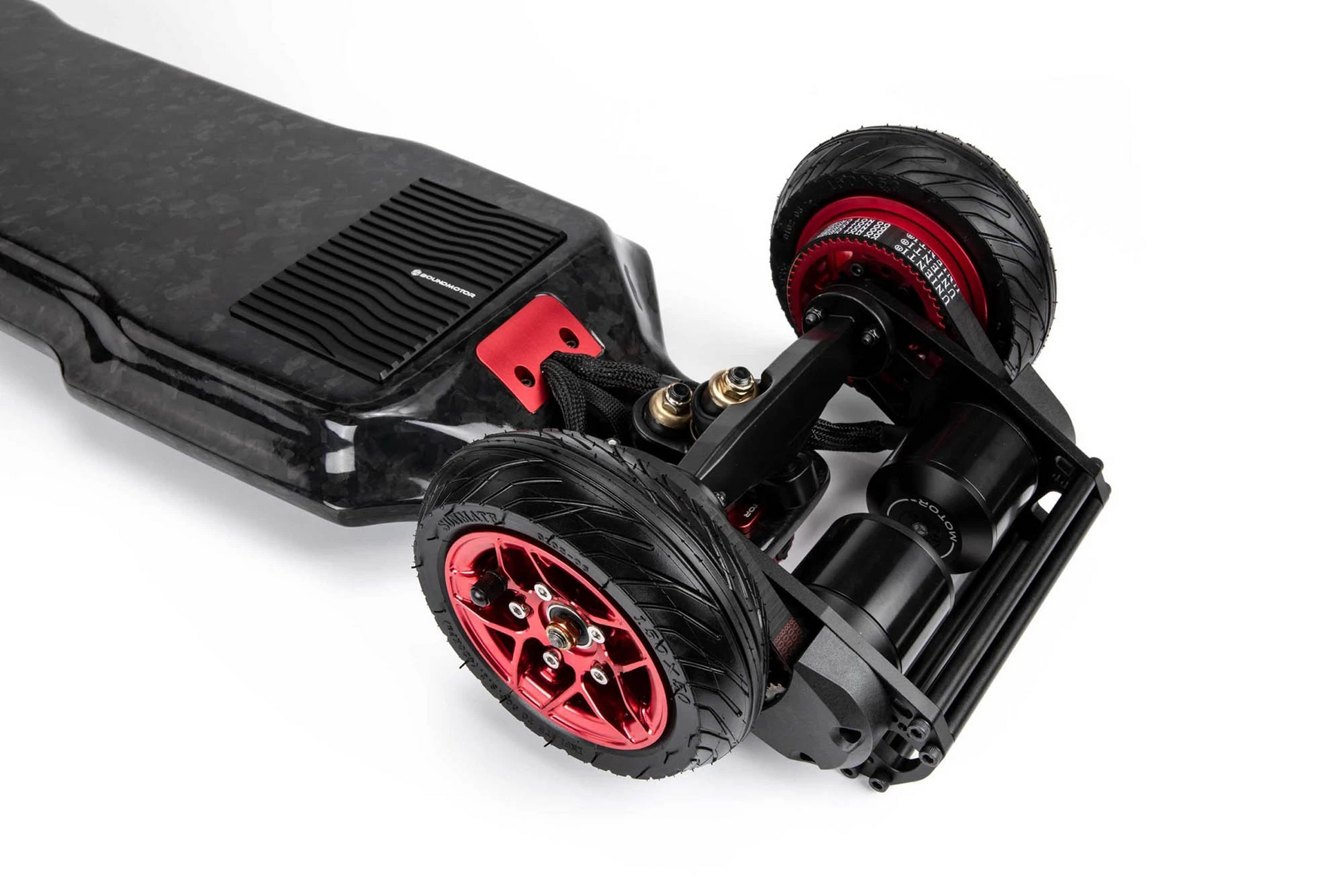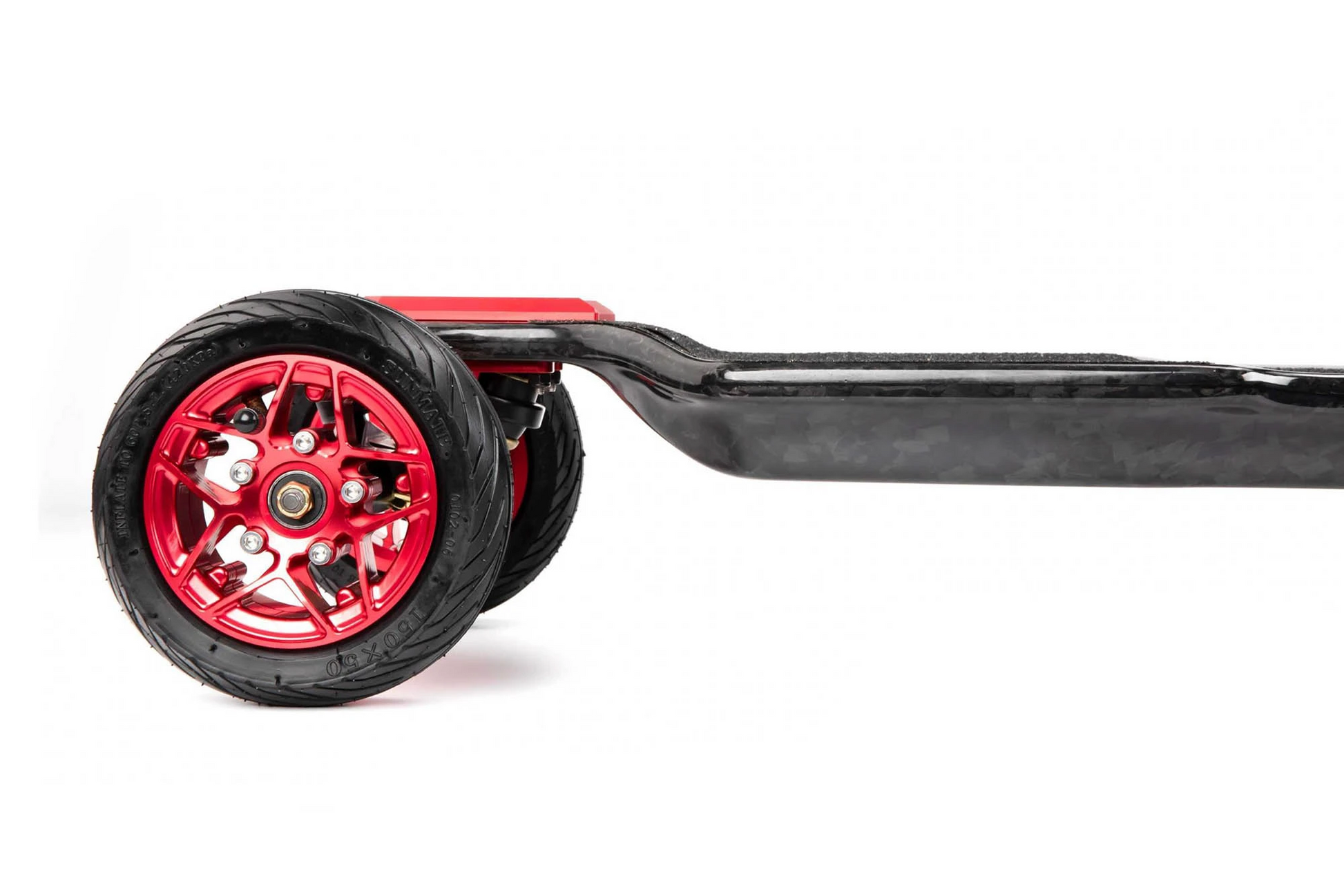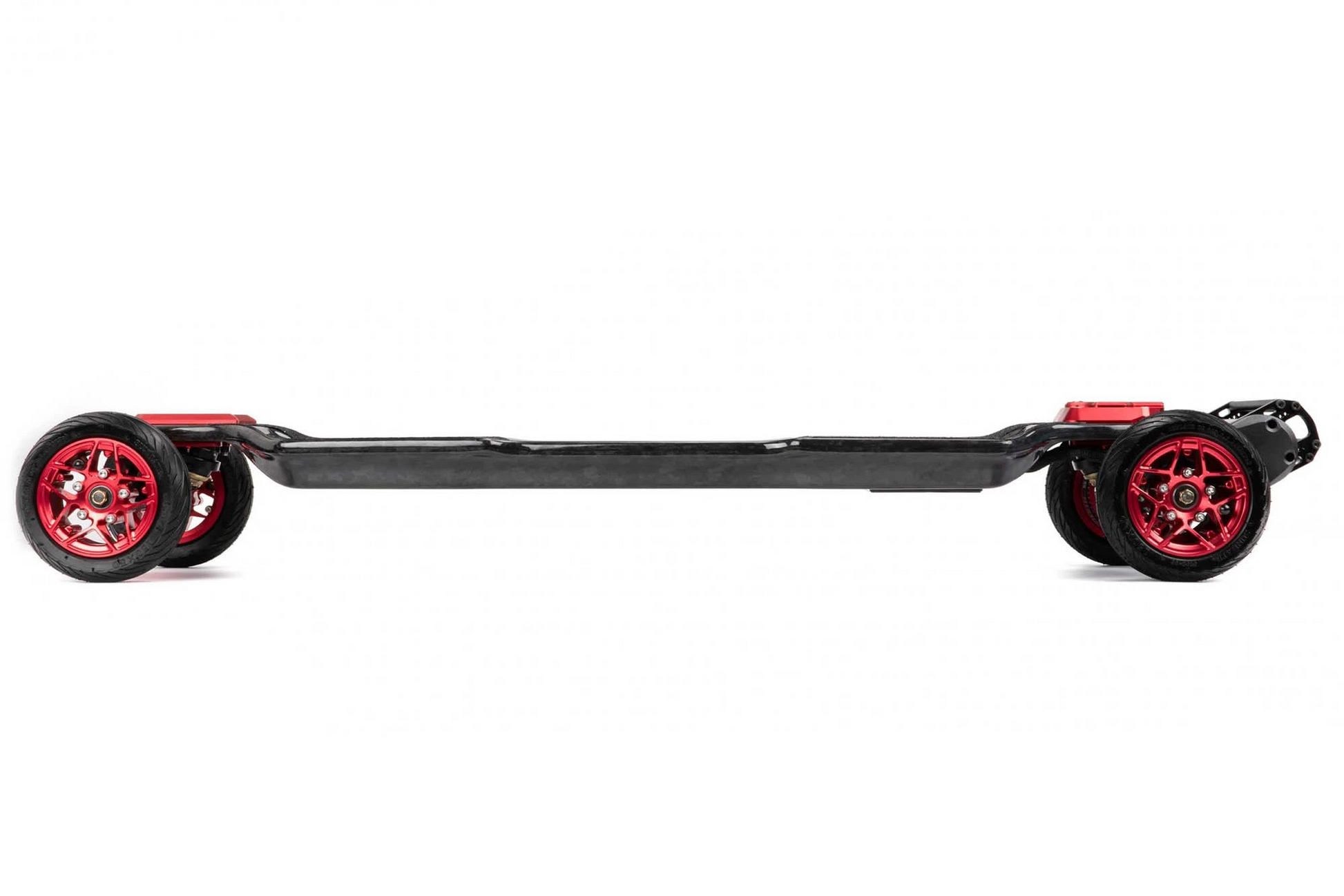 Sale price
$1,599.00
Regular price
$1,799.00
Top speed: 50km/h
PANASONIC 21700

 

12s4p 19.2ah, Max range: 45-55km
ESC: based on VESC 6.0, dual drive 200A super powerful ESC.
New Full Covered Grip Tape
Frees shipping from Utah, US. 3-7 days.(
3K version only.
) for US customers only. Other countries are shipped from Hong Kong.
Estimated Delivery:Dec 08 - Dec 12
22 people are viewing this right now
BOUNDMOTOR FLASH
All Terrains & powerful board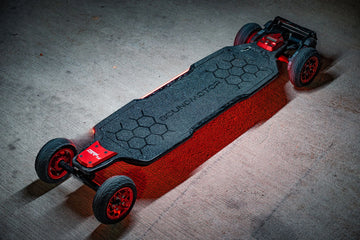 Our most powerful, most versatile electric skateboard just became more powerful! 150mm pneumatic tires and CNC machined Phantom hub ensure that you'll be comfortable whether you choose the pavement or the trail, it will absorb all the bumps in your path. Boastfully equipped with a powerful 1500W motor and 852Wh battery, means that the FLASH can go further than any of our eboards before. With new X pro core vesc, super powerful, bigger current, better heat dissipation, You will feel easy when climbing the hills. Last, but certainly not least, the FLASH comes equipped with our new bluetooth module , which syncs to the vesc/xmatic app allowing you to store your rides and share them with your friends. Wherever you're headed, FLASH is the best way to get there. This electric skateboard is very comfortable, intuitive to use, and a ton of fun to ride. You can easily climb hills and explore new destinations knowing you have enough power to get it all done.
What Our Riders Say?
it's so powerful, this board is so powerful it's so freaking powerful. i've ridden this board up a hill before it's still really fast so who is this board for i guess it's for someone who wants a really powerful board someone who wants to accelerate really fast and also for someone heavy because then you'll benefit from all that torque or if you live on hills well anyway the point is if you want a really powerful board this is a really powerful board good looking powerful board.
The boundmotor flash is the next generation of boards from this company from the moment you open the box you are greeted with a quality product. I was extremely happy when I hit the Excelerator for the first time and it almost threw me off, the power is unquestionable, and with the new upgraded VESC and VX2 remote is also smooth and controllable everything about this board has been refined, from its super large battery to it topside power button and charge port. I can't wait to see what they bring out next..
Personally, I think it was an e-board that had no disadvantages in terms of performance unless exterior designs for each person's taste.I can't believe how much I love this thing. It has absolutely changed my life for the better.
Super class, cute, comfortable. You can wear them with just about anything.
SPEC



| Range | Up to 55KM |
| --- | --- |
| Motor Type | Belt Drive System |
| Hill Climbing | Up to 30% Grade |
| Weight | 14.3kg(175mm Pneumatic wheels) |
| Power | 1500 Watts/Motor |
| Deck | CARBON FIBER DECK |
:
What's in the box
The FLASH
50.4v Charger
VX2 Remote
Air Pump
Store Case
T Tool
USB Cable
10-in-1 Tool
Powerful & Polish
One of the nicest carbon fiber setups out right now. Not only is the Flash a little more powerful than the meepo hurricane, Boundmotor has tonssss of great parts for upgrades. Like smaller pullies, cnc cupped washers, and tons of different phantom hubs that will put a brand new look on anyyy board 🤙🏼
BOUNDMOTOR FLASH
After having a great chat with Cato, I bought the BF on May 14th and received the board on June 29th. I am very pleased with their customer service and response time, would definitely recommend this company!
As for the board itself, I can say that I am a proud owner of one the most beautiful boards on the market today. They replaced the 6368 motors with 6374 motors and also added the hota wheels for free! Thank you BOUNDMOTOR for showing how a great company you are! I will definitely come back and recommend you to all my friends!!!
Keep up the good works & stay safe!
Reliable, Durable, and Efficient
What do you want for your money? You want value. The most expensive or less costly boards don't equate to value. Boundmotor Flash is the best value available. It's a quality board. It's powerful. It's a carving machine. It's beautiful. It performs well, and I appreciate that they listened to reviews to further evolve this board before my purchase. Buy this board, and you'll never feel like anyone has a better board than you. If you want more stability for it's top speed (which it achieves fast) you can upgrade to a firmer bushing. I'm fine with my Boundmotor Flash exactly the way they made it. Thank You, Boundmotor. Your product is exactly what I wanted.
Thank you so much for your comments, we will continue to optimize and make this skateboard better.
Didn't regret buying 2!
Bought a Flash, and 20 days later, bought ANOTHER !
Been riding skateboards for 20 years. Got the BOOSTED when it first came out, V1- Gen 1. Been an e-skater for at least 10 years. Needed a board with POWER, SPEED, and COMFORT.
Researched for months, endless specs, videos, reviews. All other boards in the same category goes for $1000 dollars more.
Flash took all the best components and features that clients wanted and combined it into a board that is affordable and competitive.
I was looking for another alternative board, but couldn't find another one to match, thus I bought a duplicate. One for dedicated street riding and the other for all terrain.
I regret not buying two.
1) This board is powerful, I didn't realize it through video reviews. It's more then I can handle and I like going quick on my Ducati. Be Safe wear a helmet I already ate it. (My fault hit the breaks to hard on a turn)
2) Buy this board with cloud wheels you won't regret it. This thing carves and man is it so much fun. I can lean in to a curve on flat ground with those tires its amazing. (I'm 220 6'2 and it handles me with ease)
3) Its a beautiful board. Its like a engineer ascetically mixed with the cool carbon forge has nice flickering look. My favorite design out of boards I've seen.
4) Buy Hard Bushings for speed and keep the stock bushing for carving. I really suggest getting Harder 100a Bushings above 13mph/15km. I upgraded to Thunder 100du and now cruise at 30kmh. (Goes well beyond that)
5) The battery life is great. I'll ride for about an hour and have about 80-75% left cruising to my local 7 eleven at night. You will be tired before the battery is. You could easily commute with this board.
6) I read some reviews on the support side of things and I have to say they worked with me extremely well and I read some reviews on reddit and I feel like those people in questions are Karens.
My suggestion is buy this board you won't regret it, its the best board overall (Rounded). If it's you're first board I suggest staying in the Low Settings like I do as its my first eboard.
If you think you would regret it after you can find me on some forums or in Taiwan and sell yours to me. I'm thinking of buying a second one to have for friends over. (Best thing to do is watch friends enjoying concrete sandwich)
If you're in TW and want to do some riding down hill in Tainan area or Houbi hit me up.