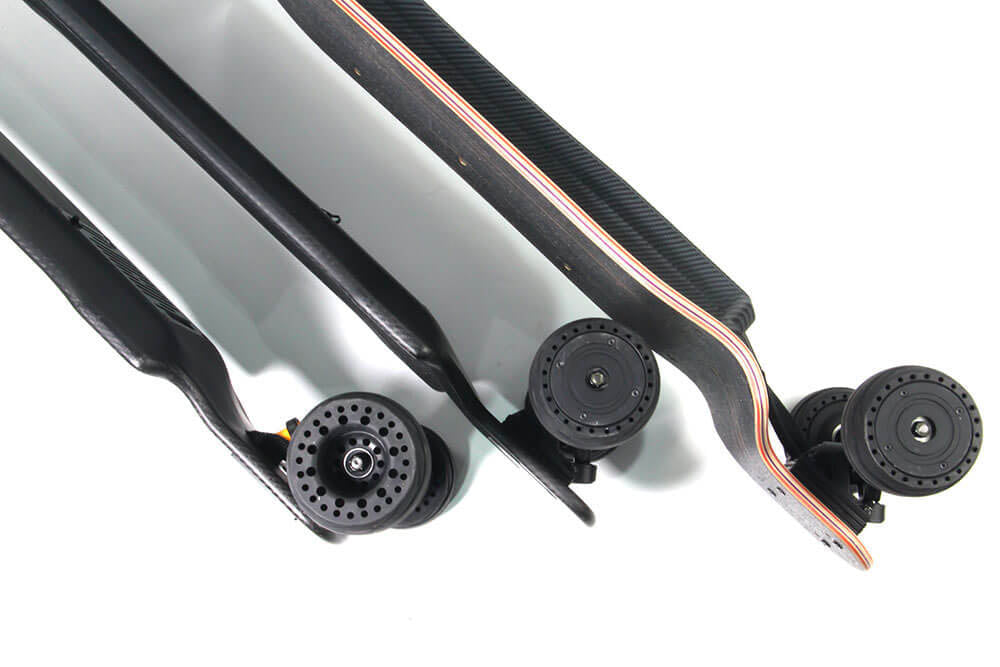 Sale price
$1,999.00
Regular price
Estimated Delivery:Dec 11 - Dec 15

Free Shipping On all orders over $300
Board Builder
Sale price
$1,999.00
Regular price
Simply use our electric skateboard parts and customize your build with your imagination.
Custom longboard
Great board good range the drop down deck and hub motors work great together plenty of power on hills even in slowest mode.
Good board
Bonne petite planche pour ma fille idéal, pour moi 85kg c est un peu juste, belle finition si ce n est que le grip se décolle
Bref bon rapport qualité prix
Amazing board!
I've owned 4 boards thus far and this thing is the best. It accelerates with authority and stops without being jerky. Rubber wheels on a board this powerful are a must.
It's a beast!
First off, customer service has been excellent. The board arrived in Canada weeks before I anticipated it. I've owned 3 other boards, all with 10 cell (36v) batteries, and this 12 cell (42v) beast blows them out of the water. Like riding something from Madmax. It's aggressive looking, and aggressive to ride. Brakes are smooth and not jerky at all. I weigh 170lbs and it accelerates up inclines with ease.
Definitely recommend!
For a long time now I wanted an electric skateboard but most streets where I live are too rugged to skate in regular skateboard or longboard wheels. That problem left me with very limited places to use any skateboard therefore it was not worth it to buy an e-skate. When I saw these type of wheels I thought they could work out and decided to buy the Mini Kooper as my first electric skateboard.
Since I have never even ridden an e-skate before I was filled with doubts and questions. Contrary to some competitors BOUND MOTOR was the only one who answered my emails with some questions and helped me out during the buying process via chat.
I am most definitely satisfied with my purchase. I ride it anywhere and don't have to worry about the terrain. You can seamlessly transfer from a sidewalk to a street and go through some grass patches with no worries. The small size and the kicktail were the reasons I selected the Mini Kooper over longboard models. With the kicktail in some situations I find it easier to turn so it's a benefit and the small size pays off once you get off the board and have to carry it.
Shipping was fast.
Price is awesome.
PS. I had to order me a second one because mine got confiscated already by my kid.