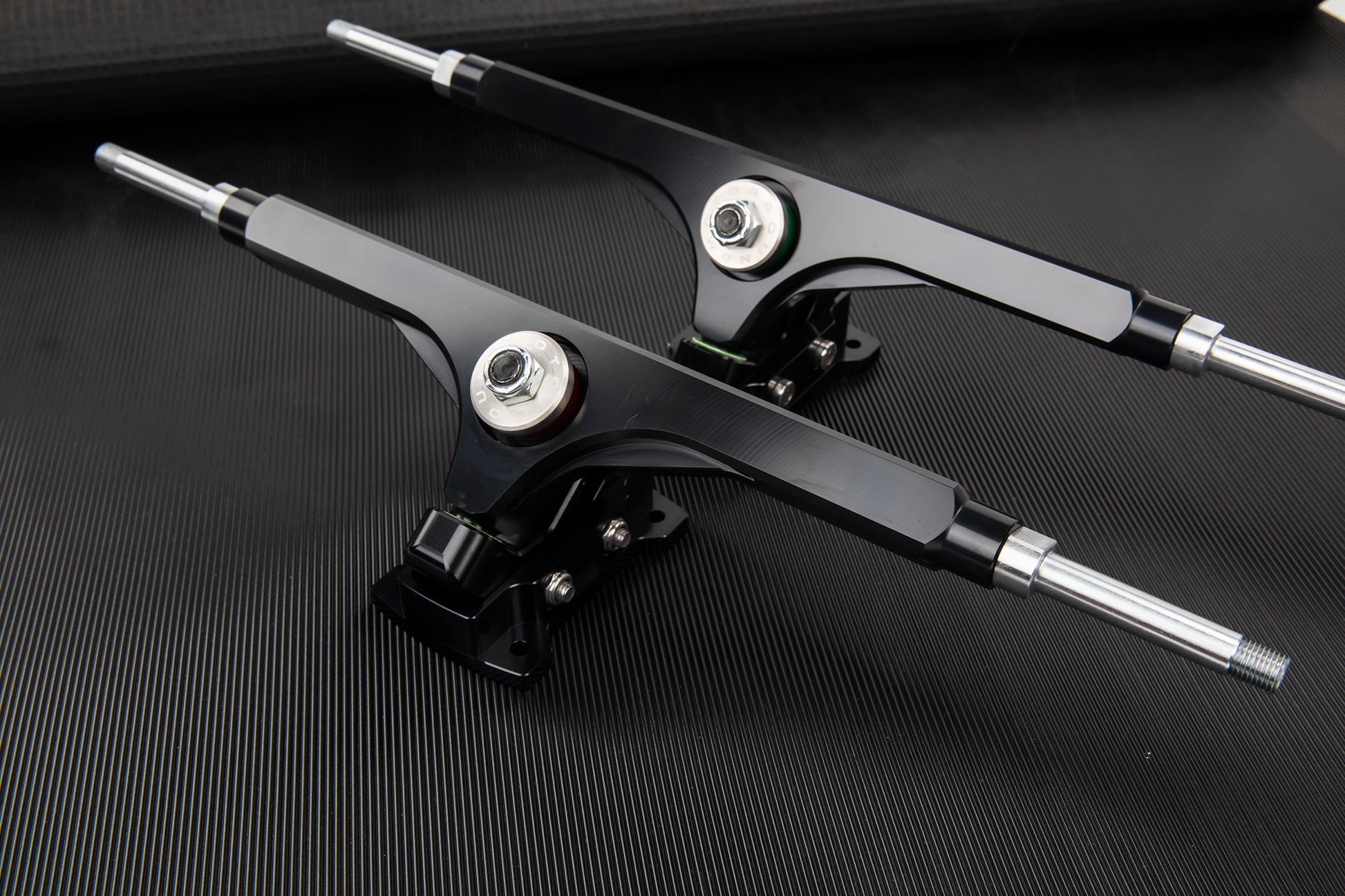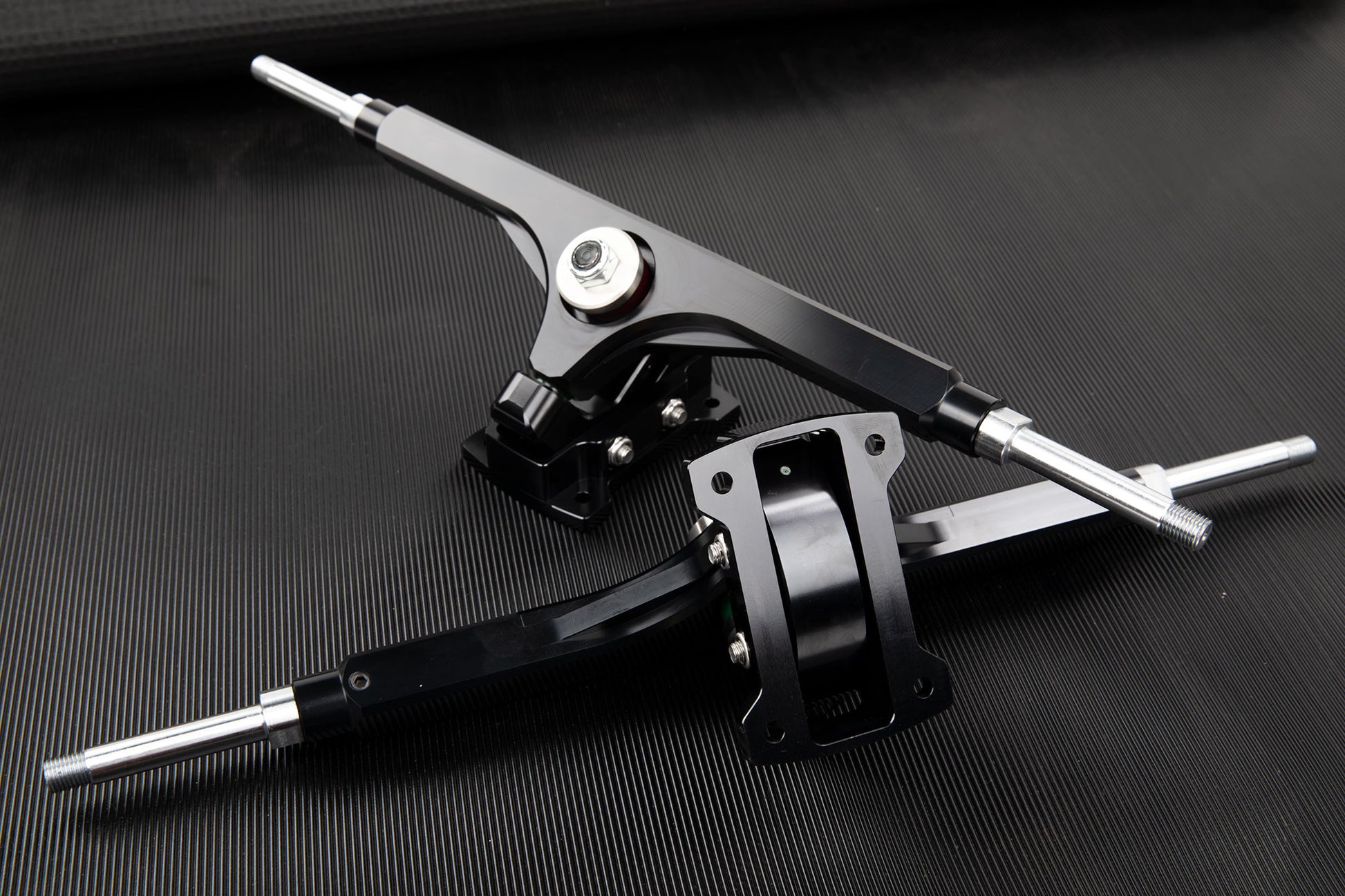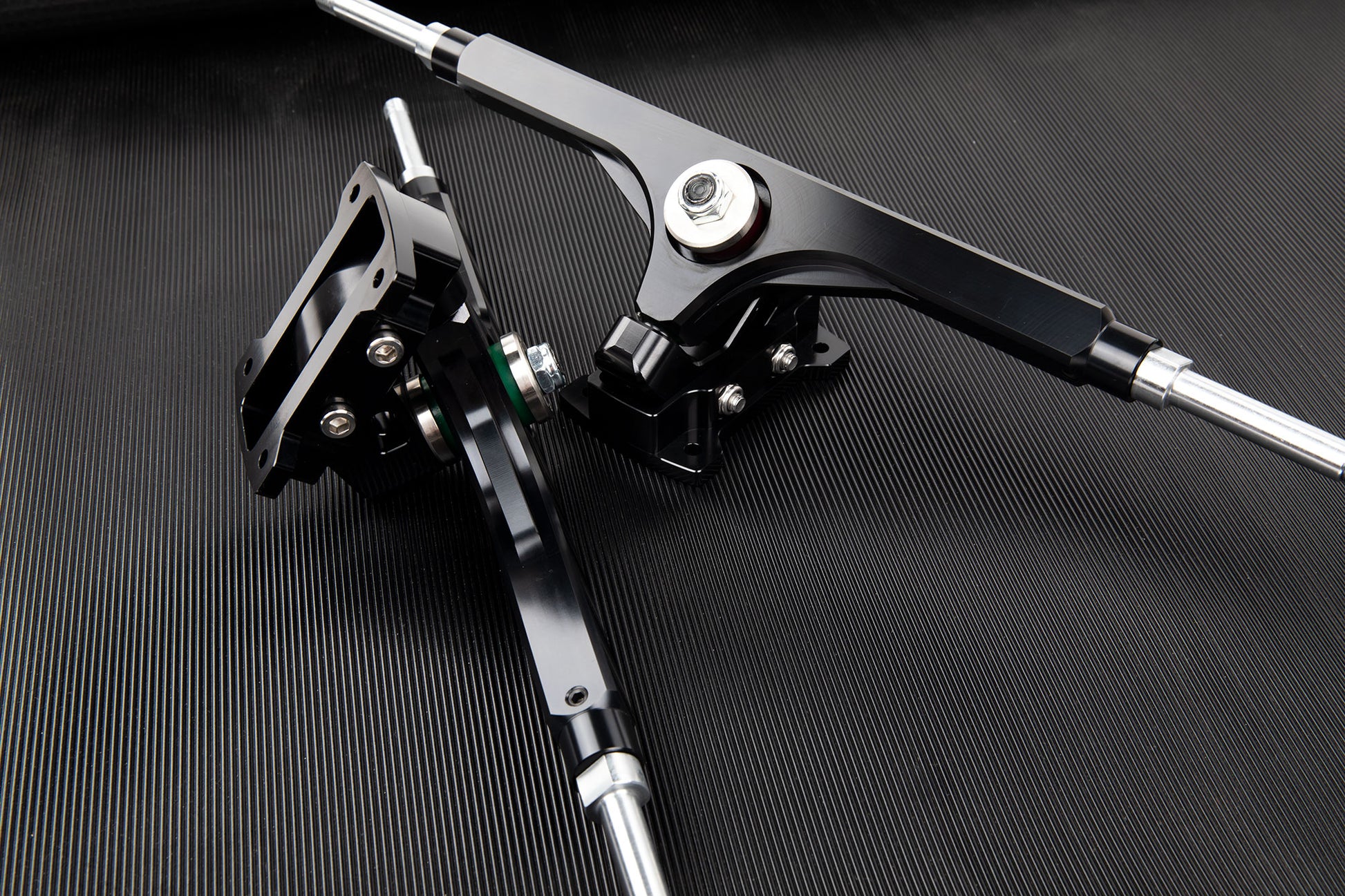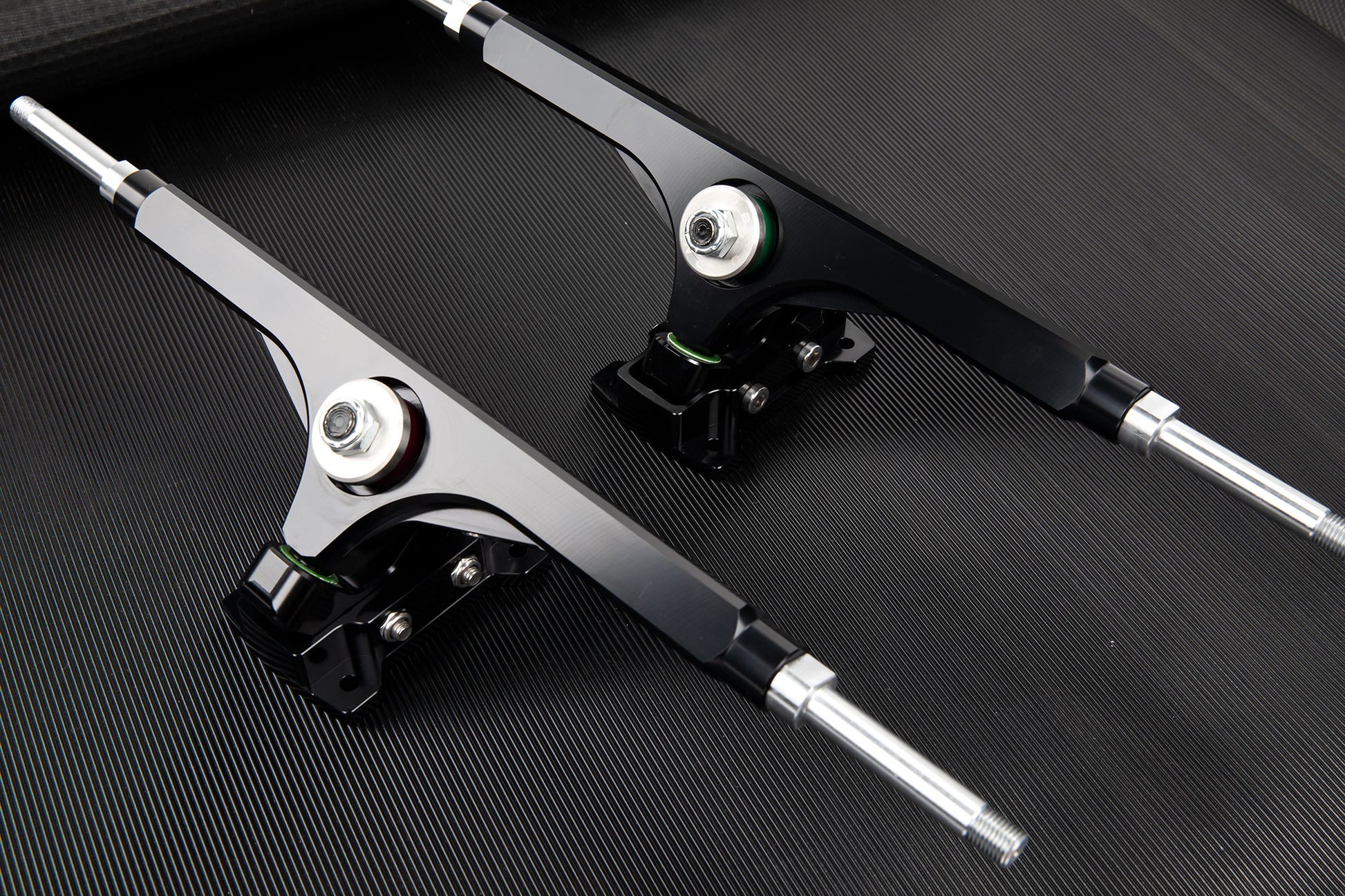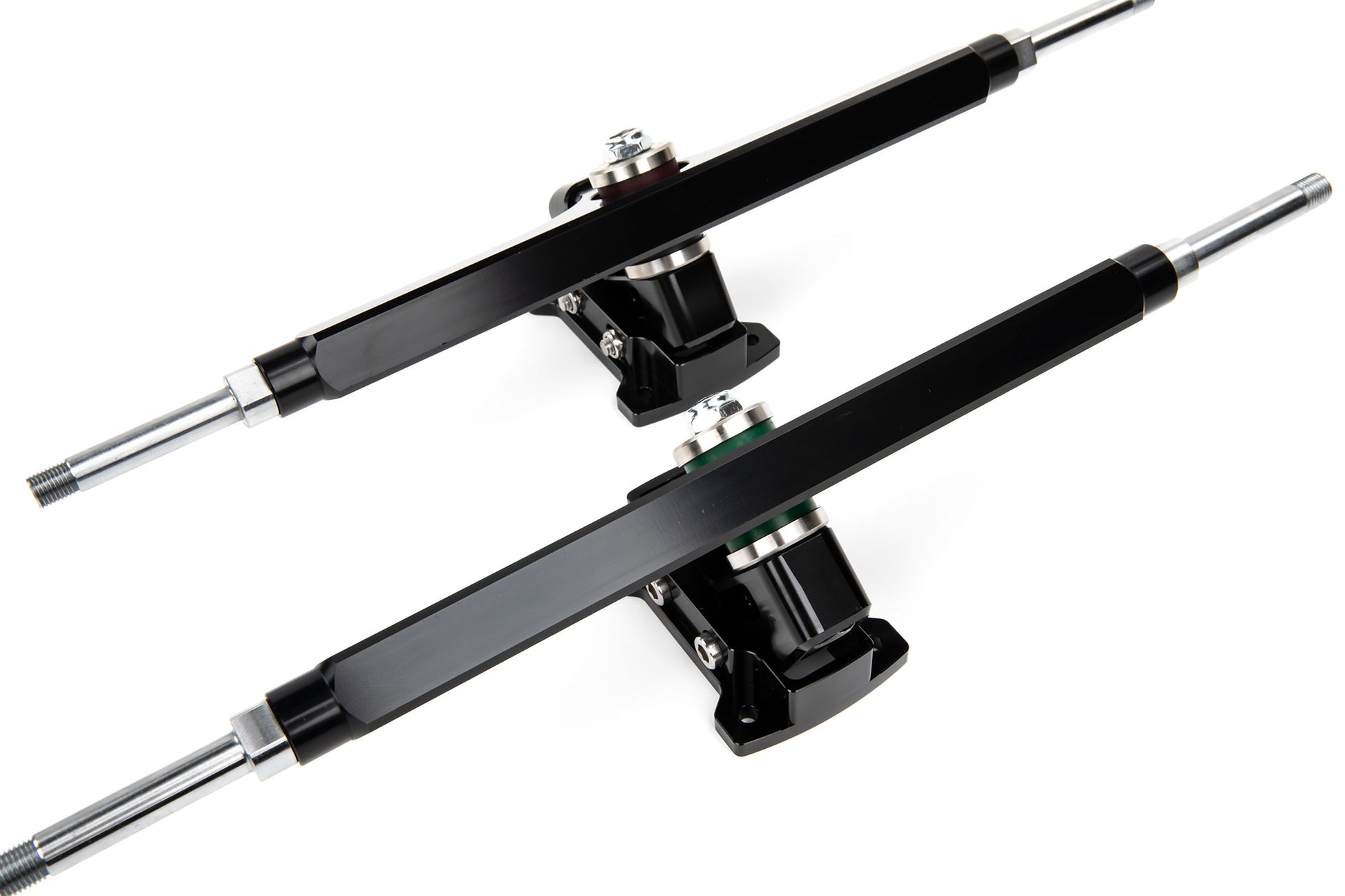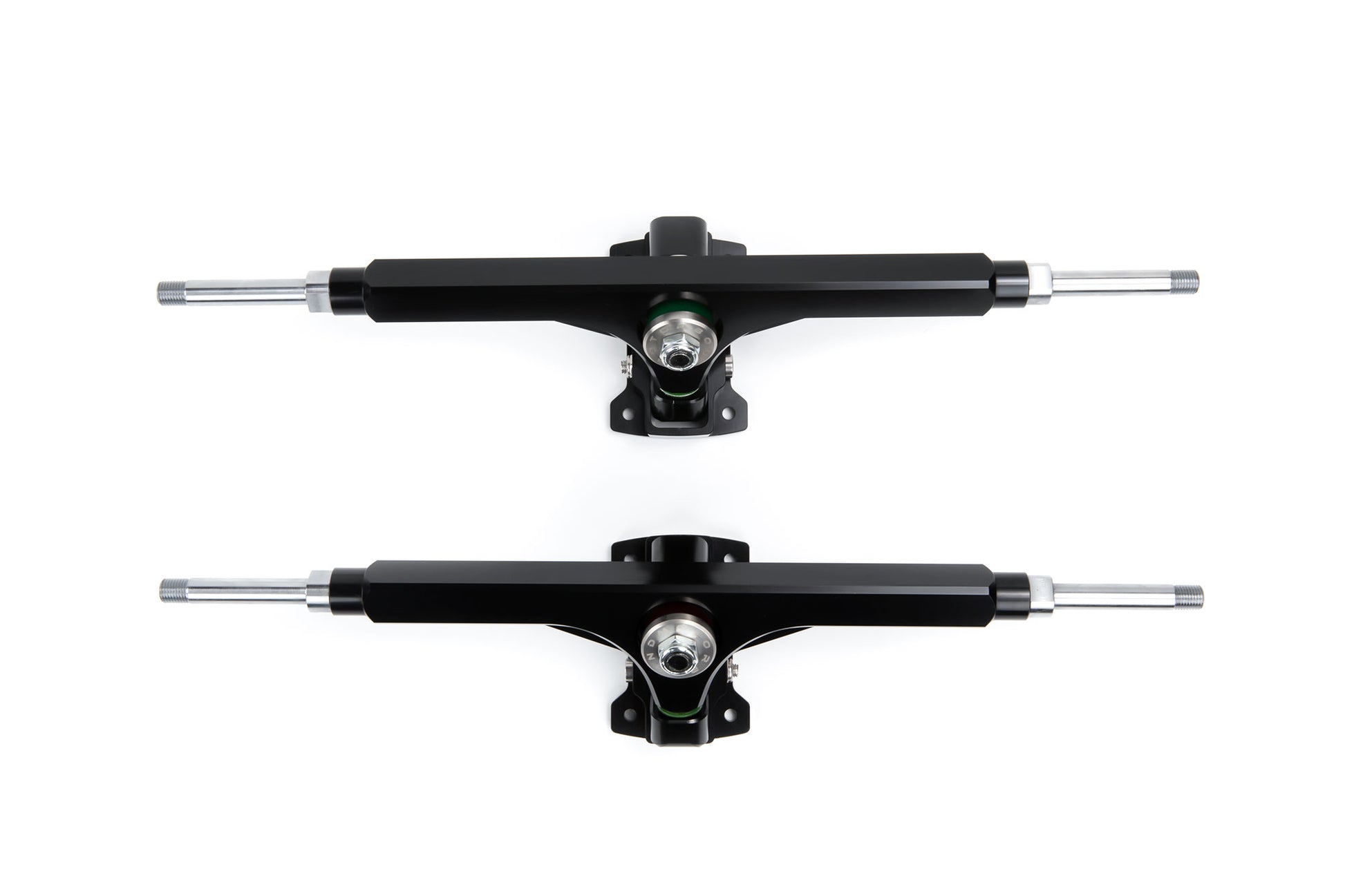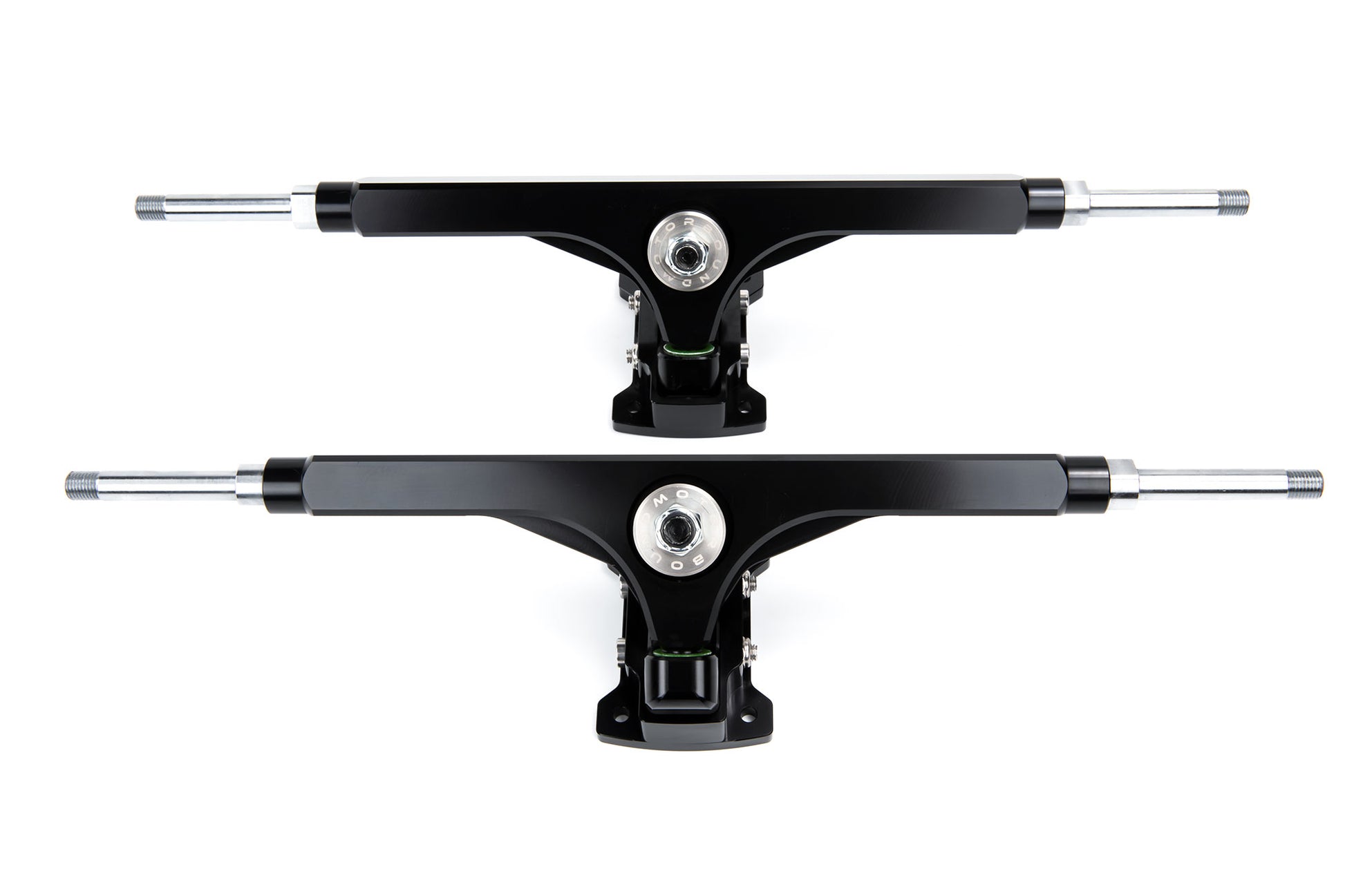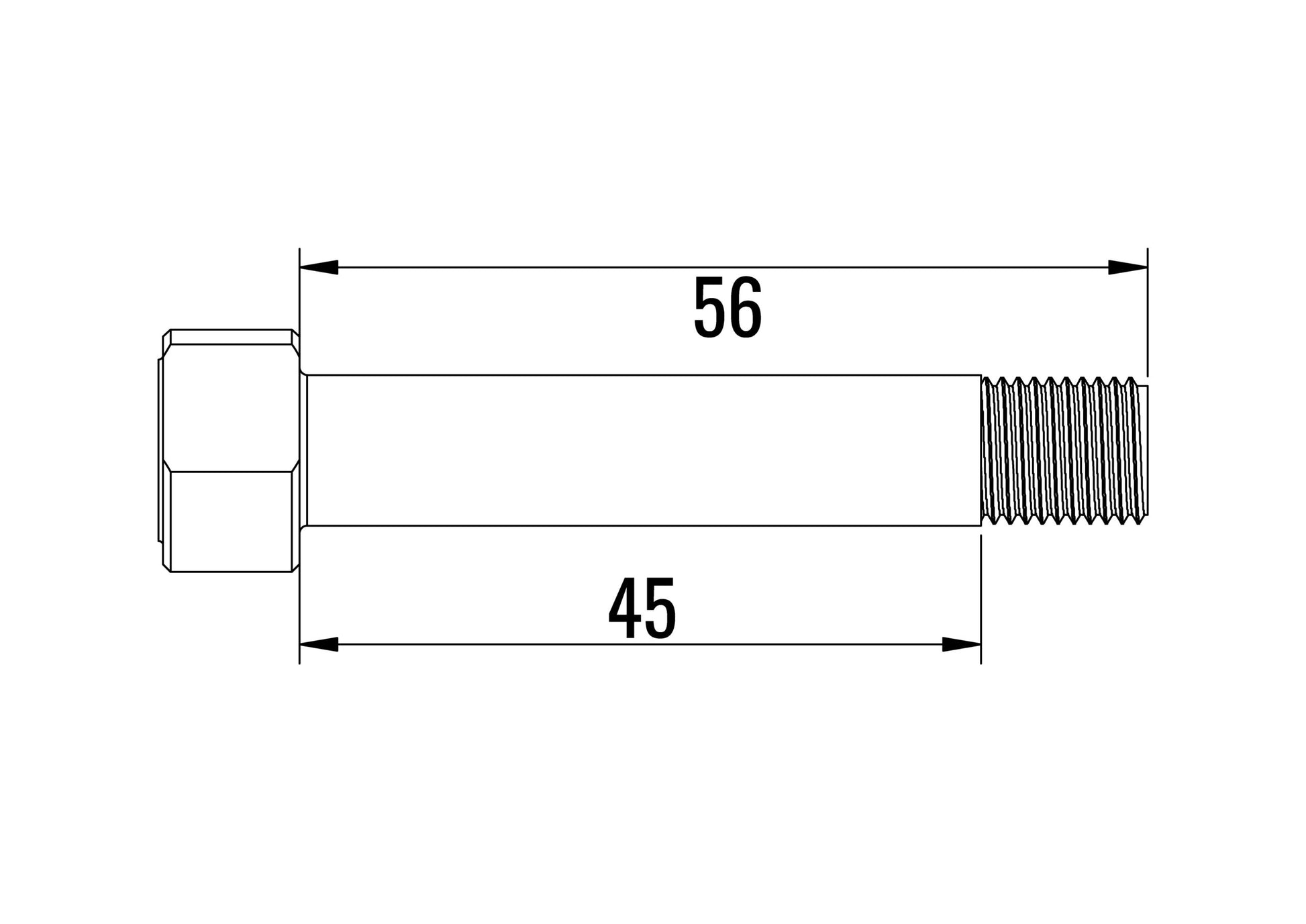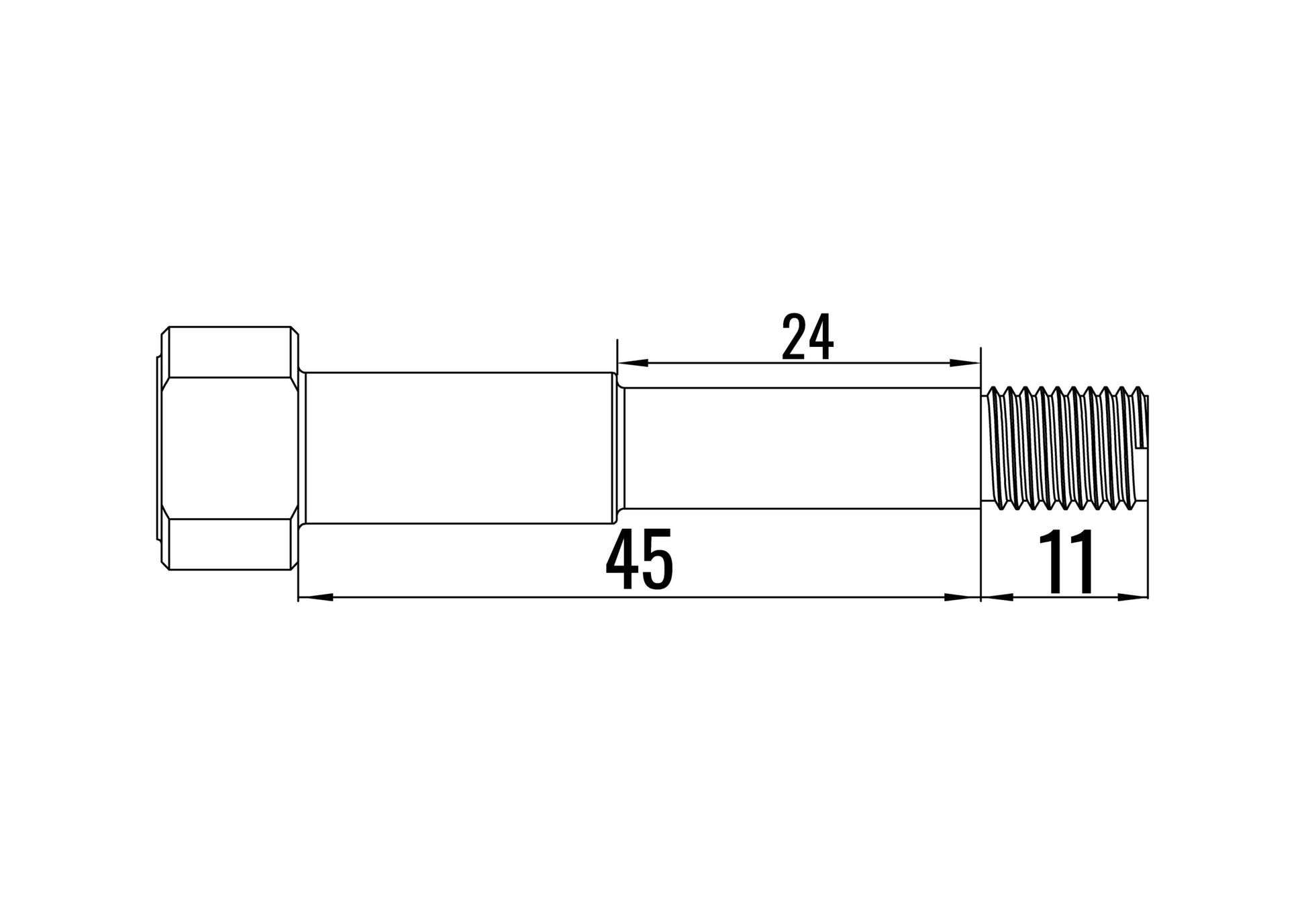 Sale price
$259.00
Regular price
Estimated Delivery:Dec 11 - Dec 15

Free Shipping On all orders over $300
RKP 390 CNC precision truck with a 260 mm wide hanger fits a dual 63100 setup with 15 mm wide HTD5M timing belts. The nominal baseplate angle is 45 degrees but can be adjusted to 35-54 degrees.
Specs of the truck:
Material: AL6061-T6
Ride height: 58.8-63.8 mm
Wheelbase offset: approx. +1.5 inch
Rake: 0 mm
Bushing seat diameter: 24.6 mm and 2.3 mm deep (dished)
Total truck width: 390 mm
Support dual 63100 motors with 15mm belts. The hanger has the same profile as Caliber II and works with all Caliber II baseplates on the market.
Off-the-shelf parts used:
– RipTide 96a pivot cup
– RipTide Krank Barrel 96a (back truck)
– RipTide Krank Barrel 90a (front truck)
– 2X socket cap screw
10mm straight axles: recommended for pneumatics
Stepped 10-8 axles: recommend for urethane wheels(same with double kingpin trucks).
Specifications:
Hanger Length: 260mm
Overall Length: 390mm
Weight: 405g per hanger with axles installed
Axles:
10mm Straight:

Axle Length: Axle Length: 56mm, (3/8″-24 Thread; 11mm length)

10-8 Stepped:

Axle Length: Axle Length: 60mm, (5/16″-24 Thread; 11mm length)
What's Included:
2X 260mm Hanger
4X Axles
4X Lock nuts
2X adjustable baseplate(35-54 degrees)
2X CNC Precision Clamps
Note:
When bought with our mounts,  a precision clamp will be sent together.
Axles don't come pre-installed for shipping reasons. please assemble with blue/red loctite.
Great trucks
Bought the Rkp 390's and they are amazing. They are ultra wide and look great. Assembly was easy. Great truck set for any diy board at a good price.
Nice Trucks with improvement potential
On the positive side: trucks look very valuable, the workmanship is at a very high level. Order, delivery, packaging everything fine.
Findings so far after assembly and test drive:
During assembly, I noticed that the motors cannot be set at the same height, this could be adjusted using the flange attached to the axle.
The trucks added about 2cm in height (compared to my 12" TKP), which takes some effort to get used to.
What amazed me is the rigidity of the truck, so the board shows a completely different handling than my previous trucks. Here I would have expected a softer /forgiving handling, which swallows the bumps in the road easily, but it rides like a go-kard.
The tilt angle of the trucks can be adjusted, but only within a very limited range, I would estimate around 20 degrees. I'm still trying to find a suitable setting for me.
The angular ratio of the bolt circle of the engine mount compared to the mounting flange to the truck is unfavorable, so the engines are to far down to the ground and therefore have less ground clearance. There is no bash guard available (nor can it be purchased separately) to protect the engines. My query regarding this to support, has never been answered.
Conclusion: My first impression is rather disappointing, well made, but details are not worked out. Driving behavior takes a lot of getting used to, compared to my 12" TKP trucks. Whether the upcoming fine tuning will bring the desired result is still open, maybe the 12" TKP are better choice for me.
Thank you for your feedback. Appreciate that.
You can try a little more angle on the front wheel with softer bushing. and see how it goes.
Adjustable trucks are the future (RKP 390)
I ordered RKP 390 adjustable trucks for my Odyssey and replaced my stock TKP to RKP 390 as I wanted the high quality CNC precision trucks for better durability and this is ultra wide trucks and it is sexy. The quality is superb and Boundmotor killed it once again with these amazing trucks. It took me awhile to find the right angle and bushing setup but it does turn amazingly. Wide trucks keeps the board ultra stable at high speed (depends on your bushing choices) and makes your overall look of board look like a beast. This kit arrives with everything you need in order to assemble it and I used blue 243 Loctite to apply everything when assembling. Boundmotor offers RipTide bushings and you can choose which bushings setups you want for it for the trucks. I got the hard ones and I find that they are too stiff for me so I swapped it back to stock black ones that came with the board originally. I might get the white one for either the front or the back for better carving and turnability. I set mine to 55° on the front and 35° for the rear. I might play around with it a bit more as 55° or 50° on the front and rear might be better for carving and turning. What's amazing thing about this trucks is overall quality and attention to detail. There are two bolts on the side where I can undone it to adjust the angle of the trucks and lock them in place by tightening up the bolts. You can choose to get either 10mm axle option for Trampa style wheels or 10-8mm axle option for standard wheels. Everything is well packaged and no single damage on arrival. Professionally well done and everyone should get these trucks asap.
Quality: ★★★★★
Durability: ★★★★★
Turnability: ★★★★☆ (depends on the choices of bushings and angle)
Carving: ★★★★★
Package: ★★★★★
Difficulty level of assembly: Easy